Newly Completed Elementary Building
features Nature-Inspired Learning Spaces
The newly completed Elementary and Preschool Campus welcomed its first year of students this October with an official Ribbon Cutting Ceremony. The ceremony, which took place on Friday, October 7th, was attended by NPC staff, administrators, parents and board members. NPC students and teachers, housed in the six new classrooms, also assembled outside to be part of the excitement.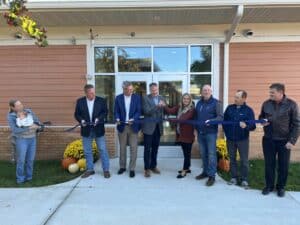 The new space will host our Developmental Kindergarten, Nature-Based Preschool, and 3rd grade classes. These classes will be infusing nature in their learning throughout the school year. This year began in an outdoor environment while they awaited the building's completion. 
Through the generosity and prayers of many of His people, this space will allow us to "equip more students to impact their world for Jesus Christ."