blog


Creation is His Classroom
At NorthPointe Christian, many of our students thrive in a traditional classroom environment. For others, the thought of sitting in school for 7 hours a day is unbearable, as they'd rather be fixing cars, baking, chopping wood, or welding. For one of our sophomore students, the Big Picture Learning Program was a perfect fit: the opportunity to attend school, but with an emphasis on his interests and passions.
Leaving middle school, Gavin knew that a traditional high school experience wouldn't be the best fit for his learning style. When he and his parents discovered Big Picture Learning, Gavin knew that the project-based, internship-focused learning would be a perfect fit for him to pursue his interests and passions, allowing him to gain real-world experience and build his professional resume before graduating from high school.
During our conversation, Gavin cited five reasons he loves Big Picture Learning and his current internship at Camp Roger:
1. Project-Based Learning
Across the Big Picture Learning Program, projects are central to students' learning experience, both inside and outside the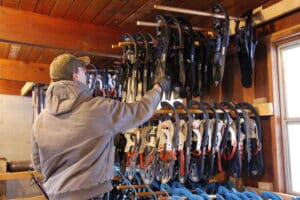 classroom. Gavin cites these projects as not only aiding his overall learning, but also not having to worry about a multitude of smaller assignments throughout the week. For example, a student in the traditional classroom environment might have an assignment in every subject every night. Oppositely, Gavin is assigned one large, integrative project that is due within a week or two of being assigned. Recently, Gavin had the opportunity to complete a large project about mental health. His focus? How time outdoors benefits and enhances mental health. This project allowed Gavin to research an issue that deeply impacts many in our society (mental health) and tie it into his internship experience.
2. Internship Experience
While many other students in Big Picture Learning tend to change internships every semester or year, Gavin is in his second year interning at Camp Roger, a 400-acre camp outside of Grand Rapids, MI, whose mission is to "encounter and celebrate God's love for his children through relationships and experiences in Creation". This long-term internship placement has offered Gavin the opportunity to learn about Camp Roger and its operations in-depth, understanding the camp's needs, systems, and layout thoroughly. Gavin would be the first to tell you that while weather conditions can be challenging and he doesn't always enjoy office work, his time at Camp Roger has provided him with incredible relationships and opportunities to build confidence in public speaking and interacting with others.
3. Building Confidence
In addition to his duties in facilities, grounds and equipment maintenance, Gavin has had a plethora of opportunities to build his confidence by helping lead Camp Roger's outdoor education programs for students in the Grand Rapids area. Gavin shared that while he was initially uncomfortable with leading large groups of people, over time, he has grown more accustomed to taking charge, guiding visitors through outdoor activities, and giving instructions. This increased confidence in leading outdoor activities at Camp Roger has carried into Gavin's in-class experience at NorthPointe, where he is comfortable giving presentations and speaking in front of peers and teachers in class.
4. Relating with Others
Gavin cites his time at Camp Roger as formative for his ability to relate well with others. Not only does Gavin interact with the Camp's year-round staff, but also the campers. As a result, Gavin has developed a unique ability to understand those who visit Camp Roger and help them adjust to something different from their home context. During his internship, Gavin has had the opportunity to lead outdoor activities for students who primarily live in urban areas. For many of these students, a 400-acre outdoor camp, kayaking, and zip lining is a completely new experience. Working with students has helped Gavin quickly assess their background and tailor his presentation and conversation skills to help the visitors adjust and learn in a different environment. While in class at NorthPointe, Gavin is able to deploy these same interpersonal skills in building relationships with his teachers and classmates.
5. Preparing for the Future
Even as a high school sophomore, Gavin is already considering his future. However, the future isn't as daunting or scary as he imagined because of the experience he already has on his resume thanks to Big Picture Learning. Over the summer, Gavin intends to continue his work at Camp Roger, building his confidence and interpersonal skills while helping maintain a 400-acre camp.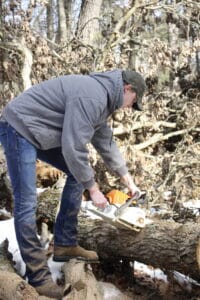 As he enters his junior year this fall, Gavin aspires to attend Kent Career Tech Center's Automotive Technology Program. Thanks to NorthPointe's partnership with Kent Career Tech Center and the Big Picture Learning Program, Gavin can gain licensure in automotive technology while continuing to receive real-world experience through internships. Assessing the current employment landscape, Gavin shared that the dire need for mechanics has allowed him the flexibility to obtain an after-school job as a mechanic, while pursuing his certification. In his free time, Gavin enjoys restoring antique tractors and working on his family's cars. Not even two full years into Big Picture Learning, Gavin is building a stellar resume and identifying the steps he needs to take in order to pursue his long-term goal: working as a heavy equipment mechanic. With God's creation as his classroom, Gavin is learning the interpersonal and trade skills necessary to be an effective mechanic in the future.
As we concluded our conversation, I asked Gavin how he might persuade a future NPC student to consider the Big Picture Learning Program. His answer?
If you have a mindset of growth and want to gain real-world experience instead of sitting in a classroom, this program is for you.
You will leave high school with an incredible resume and a great idea of what you want to do for a career. Even as a high school sophomore, Gavin knows he won't be attending college, and instead will attend trade school to become a mechanic.
You will get out of Big Picture Learning what you put into it. If you are willing to dedicate yourself to learning, finding an internship that matches your interests, and working hard, you will enjoy Big Picture Learning and all it has to offer.
The Big Picture Learning Program has offered Gavin (and dozens of other students!) the opportunity to pursue their interests and passions while obtaining real-world experience and building their resume. We are so excited to witness Gavin's continued growth as he pursues his dream of being a heavy equipment mechanic.
Are you interested in Big Picture Learning for your high school student? We'd love to meet with you, give you a tour, and discuss the program's offerings. Contact us at admissions@npchristian.org to schedule your tour and receive more information.