Loving God's Image Bearers
through Gospel Proclamation
Here at NorthPointe Christian, our academic, athletic and extracurricular programming is based on three core Biblical mandates: love, mission, and image. Students at every age and grade level are prepared to "love the Lord your God… and love your neighbor as yourself" (Matt. 22:37-39), to "go and make disciples of all nations" (Matt. 28:18-20), and to see others as made "in the image" of God (Gen. 1:26-28). Integrated across all of NorthPointe's programming, students in preschool through 12th grade receive daily, Biblically-based instruction that prepares them to obey and live out these mandates in their daily life and walk with Christ. However, we not only hope that our students will live these out during their time at NorthPointe – we pray regularly that these mandates would guide the lives of NorthPointe students for the rest of their lives.
For NPC alumnus Tyler Emmorey, opportunities abound for him to exemplify the love, mission and image mandates as he ministers in Les Cayes, Haiti.
Located on the southwest Caribbean shore, Les Cayes leads southern Haiti in exports such as bananas, coffee, cotton, and timber. Despite their seemingly abundant economic output, the people of Les Cayes still experience daily struggles with weak infrastructure, lack of education, and few opportunities to hear the Gospel.
After a few visits to Les Cayes, God presented Tyler and his wife, Vanessa, with the opportunity to purchase 2 acres of land and open the Les Cayes campus of Youth With a Mission, a global missions training organization that equips Christians of all ages to proclaim the Gospel to the nations. At YWAM Les Cayes, Tyler and Vanessa (along with their team) seek to disciple Haitians in their community and equip them to serve and work with integrity. Working in an area of desperate physical and spiritual need has opened doors for Tyler and Vanessa to live out the very mandates NorthPointe teaches.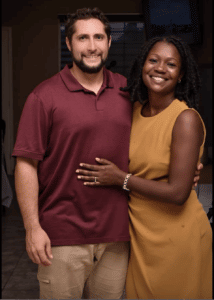 Made in God's Image
At the core of Tyler and Vanessa's ministry is the image mandate, which declares each and every person as being made "in the image of God" (Gen. 1:26-28). This truth motivates and guides every aspect of Tyler and Vanessa's work, knowing that the precious people of Les Cayes, Haiti, are made in the image of God, loved by Him, and created to be in relationship with Him.
However, merely telling the residents of Les Cayes that they are made in God's image is not enough. This core Gospel proclamation is accompanied and demonstrated by the meeting of physical needs and providing crucial education that will be foundational to their success in life, faith, and community leadership.
Loving Others by Meeting Physical Needs
A key aspect of Tyler and Vanessa's ministry is demonstrating the love of God through equipping the people of Les Cayes to contribute to their community's infrastructure and businesses. Through a variety of training programs and mentorship, the people of Les Cayes are educated in agriculture, trade skills, and other business principles. Because of this training, the people are equipped to make a living for themselves and their family while contributing to the establishment of a strong, vibrant infrastructure where jobs are abundant and nobody goes hungry.
In addition to these training programs and mentorship opportunities, the Emmorey's are in the process of constructing the complete Les Cayes campus. As God provides financial means, the Les Cayes campus will offer a training house, security, a dining area, dorms, classrooms, and a basketball court. The goal of these construction projects is to not only offer the Emmorey's and their staff a long-term place to live, but also a place where upcoming cohorts of YWAM's Discipleship Training School can receive the training they need to become global missionaries. In addition, this campus and its offerings exist to bless the community, whether they need to receive prayer, a training course, or spend time with believers who care about them.
Equipping Disciples to Make Disciples
While meeting physical needs is a crucial component to the Emmorey's ministry, discipleship is their primary goal. Through their evangelistic and business training programs, the Emmorey's and their staff seek to bring the Gospel to the people of Les Cayes.
In a September update from Tyler, we received word that over a dozen Haitian students attended Discipleship Training School for five months and graduated! During these students' tenure in the program, they shared the Gospel with over 1000 people, led 33 people to a relationship with Jesus Christ, and participated in 11 baptisms. Praise God!
It is our hope and prayer that God will continue to give Tyler and Vanessa many opportunities to continue in training, discipleship, and community building to the glory of God and the building of His Kingdom in Haiti and beyond!