Alumni Spotlight: Kaitlyn Visser
Kaitlyn Visser Makes the Most Out Of Summer Break By Landing Internship at Rosendin
NorthPointe Christian alum '18 shares insight on maximizing summer work-based experience
Visser is a senior studying Film Production at Grand Canyon University after moving to Arizona from her hometown in Grand Rapid, MI. As an intern at Rosendin's Tempe, AZ office, Visser is developing new skills and learning the ins and outs of the construction industry. Working on the marketing team as a Photo Video Marketing Intern, Visser is taking photos and videos at Rosendin's different job sites, projects and events throughout the summer. She is putting the skills she learns on the job to good use editing photos and videos for social media, YouTube and other purposes.
"I wanted to intern for Rosendin because they are respected, successful, and growing quickly. Interning with Rosendin gives students the rare chance to explore career opportunities in a company that wants to help you succeed," said Visser.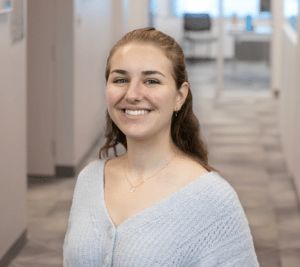 Visser is also learning new skills and strategies to help navigate a career in construction that are relevant to the job and internship search in any profession. Consider these tips when seeking out new career opportunities and trying to make the most out of a summer work-based experience:
Aligning Values – Seek out companies that have clear and purposeful mission statements and core values. For example, Rosendin's commitment to safety through meaningful action and permanent solutions is rooted in its core values: "We Care. We Share. We Listen. We Innovate. We Excel.
Develop Goals – Meeting with managers early on to establish goals and create a plan to achieve those goals is important. Frequent check-ins to review progress are an integral part of a successful internship experience.
Find Mentors – Every intern at Rosendin is assigned an mentor at the beginning of their internship and can turn to them for advice and guidance as they solve real-world problems together. This is proven to increase self-confidence, awareness and builds communication skills.
Learn New Skills – "My advice to others looking for an internship is to keep working on your skill set. Developing skills and work ethic don't happen overnight. always be seeking new experiences and opportunities to help you get better at whatever you're passionate about," said Visser.
The goal of Rosendin's Summer Intern Program is to help students realize their full potential and develop them into future leaders. Upon successful program completion, interns are invited back the following summer or offered a full-time position.
Great job, Kaitlyn!