The Role of Scripture,
Family and Christian Community

in the Home & School Hybrid Program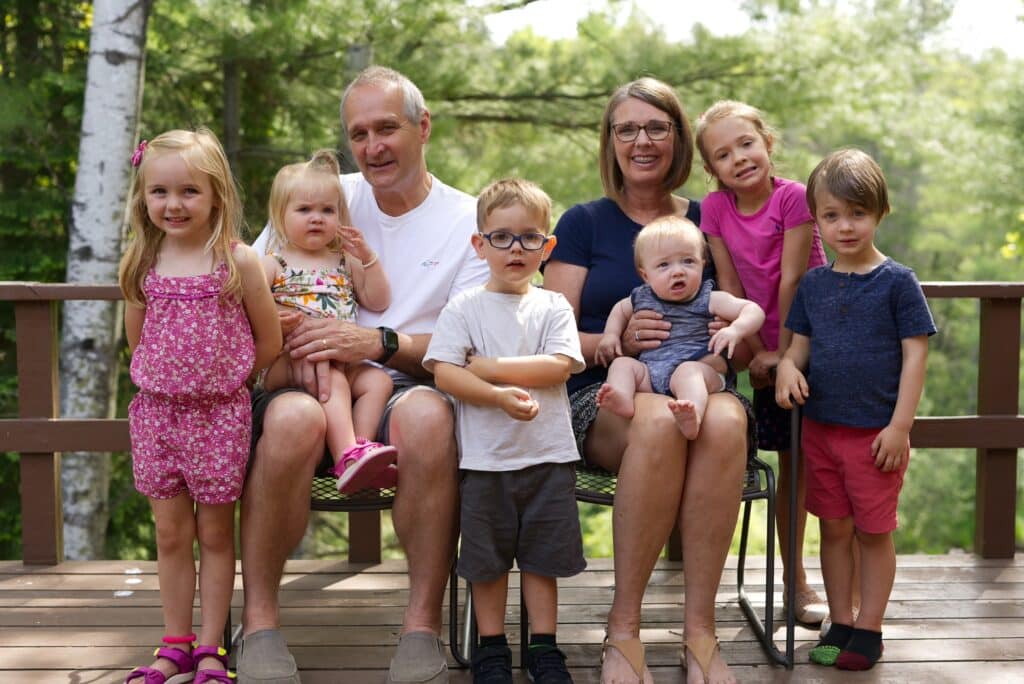 NorthPointe Christian's Home & School Hybrid Program was started because of one mom's desire to involve more West Michigan families in their children's education, opening doors for an educational experience featuring 'best of both worlds' – school attendance and at-home instruction – founded on God's Word, family, and Christian community. Since the Hybrid Program opened its doors in 2008, it has expanded to offer a unique homeschool experience for over 70 students in Kindergarten through 8th grade. 
Early Beginnings
For John and Laurie DeLong, the decision to homeschool their children was made early in their parenting journey. Holly, Johnny, and Katie – John and Laurie's 3 children – were homeschooled through 8th grade, and enrolled at NorthPointe Christian High School from 9th-12th grade. Throughout the DeLong family's homeschool journey, they were involved with local homeschool co-op (cooperative) programs, where Laurie witnessed firsthand the importance of parental involvement in education and learning in Christian community.
During her homeschooling journey, Laurie was introduced to NPC parent and board member, Meg Cusack. Meg had recently helped NorthPointe begin their Friday Enrichment program, which offered supplemental education in computers, science experiments, gym, art, and theater for homeschooled students. After meeting Laurie and hearing about her heart for Christian homeschool education, Meg asked Laurie to help her begin a Hybrid program, which would allow students to attend school and be taught by their parents at home, all within a Christian school community and educational framework. From 2006 to 2008, Laurie and Meg investigated the Hybrid model by visiting schools with similar programs, researching curriculum, and presenting the program model to NorthPointe's Board of Directors for approval. 
Foundations – Scripture, Family and Community – and a Unique Program
As Laurie, Meg and the NorthPointe administration worked to establish the Hybrid program, three foundational concepts were integrated into the program's foundation: Scripture, family, and community. The combination of these three foundational concepts would position NorthPointe to partner with parents in Biblically-based education, combining at-school and in-home education to strengthen relationships inside and outside of the home.
Established in 1972, NorthPointe Christian Schools was founded with the purpose of "equipping students to impact their world for Jesus Christ". NorthPointe's commitment to the integration of Scripture in academics, athletics, spiritual life, and extracurricular activities sets apart its educational offerings, including the Hybrid Program. As teachers, program directors, and principals evaluate the Hybrid Program curriculum each year, they not only examine the curriculum for its academic caliber, but its commitment to God's Word. 
Unlike other program offerings at NorthPointe, the Hybrid program uniquely involves parents in their child's education. Each week, teachers send families their lesson plan, giving parents all the information they need to teach their children at home. These Monday and Wednesday homeschool days have proven to not only strengthen family relationships and bonds, but also allow parents to supplement their child's education with additional tutoring in difficult subjects, or specialized work in subjects of expertise and skill. Hybrid teachers take these parent relationships seriously, in ongoing communication with parents about their child's progress, areas of improvement, and avenues for needed growth.
Furthermore, the Hybrid Program is uniquely situated to bring students into the broader NorthPointe community to learn, grow, and explore new hobbies. Hybrid students have opportunities to participate in drama / theater, fine arts, athletics, and extracurricular activities alongside full-time students. This community learning context allows Hybrid students an easier transition into the full-time program. Until recently, the Hybrid Kindergarten through 5th grade students were housed at NorthPointe's Preschool and Elementary campus, allowing them to develop relationships with full-time students at lunch, recess, and other programs. 
The First Year
In the fall of 2008, the inaugural class of the Hybrid program (then called the 'Core Academic Program', or CAP) was opened to 3rd-5th grade students. Local teacher and homeschool mom Michelle Luke was hired by NorthPointe Christian to teach this inaugural class of eleven students. 
Prior to the new school year, NorthPointe sent families the curriculum list for the program – math, science, history, English, Bible, and other core subjects – so they could purchase the required materials. Every week of the school year, teacher Michelle Luke would send families a lesson plan, outlining the students' homework (to be completed on Mondays and Wednesdays with parents) and the in-class plan (for Tuesday and Thursday school attendance). This two-days-at-school and two-days-at-home model allowed students the 'best of both worlds' – the chance to attend school with other homeschooled students and develop friendships in the broader NorthPointe community, while being taught by their parents at home. Families participating in the Core Academic Program had the option of adding on the Friday Enrichment Program for an additional cost.
By early 2009, abundant interest had been expressed by current and incoming NorthPointe families. Local news outlets had featured the program, and word of mouth was traveling quickly. Would additional grade levels and teachers be added to the program?
Almost 15 Years of Growth
By the fall of 2009, after one year of the program, interest in the Hybrid Program (renamed from Core Academic Program) had skyrocketed. Instead of a singular 3rd-5th grade class, three classes were opened and more teachers were hired – Julie Ellens to teach the 1st-2nd grade students, Deb Pitsch to teach the 3rd-4th grade students, and Julie Bennett to teach the 5th-6th grade students. Each class enrolled between 12-20 students. Just like the 2008-2009 school year, families were provided with a curriculum list, lesson plans were written, and students were welcomed each Tuesday and Thursday into their classroom at NorthPointe.
In the following years class sizes continued to grow. Due to an increase in demand, a 6th-8th grade Home & School Hybrid class was opened in 2019, allowing parents the option to homeschool from Kindergarten through 8th grade.
Program Distinctions
Throughout almost 15 years of serving homeschool families, the Hybrid Program's foundations have remained strong and steady, seeking to equip students to impact their world for Jesus Christ. The very facets and distinguishing characteristics of the program that were present at its inception remain today, drawing interest from families across West Michigan. Today, these unique characteristics of the program include:
Small Classes & Attentive Teachers: Each class is capped at 20-25 students and has two teachers. Even at maximum capacity, the presence of two teachers in each classroom allows for plenty of one-on-one attention for each student, and the smaller class sizes promote strong relationships among students.
Spiritual Life: Each week, students gather for chapel, where they participate in worship, prayer, small groups, or listen to a speaker. In addition to weekly chapel, Scripture is integrated into each core subject!
Curriculum: One of the greatest challenges for homeschool families is curriculum evaluation and selection. In the Hybrid Program, parents no longer need to think about curriculum selection because it's selected for them! Each year, all curriculum is evaluated for its rigor, effectiveness, commitment to Biblical truth, and other standards. Without the stress of curriculum selection, parents are freed to assess their child's additional learning needs and supplement them accordingly, if they desire. 
Parent Partnership: The Hybrid program allows for hands-on parent involvement in a way that most traditional school programs do not. In addition to Monday and Wednesday teaching at home, parents are asked to volunteer in their child's classroom a few times a year, allowing parents to experience their child's learning environment.
One-of-a-Kind Programming: As of late 2022, the Hybrid Program is the only program of its kind in West Michigan. Other area schools have attempted to begin programs with a similar model to Hybrid, but none of those programs exactly mirror ours! The uniqueness of the Hybrid program is unmatched, allowing for an educational approach that uniquely addresses the needs and strengths of each student.
Overlap with the NorthPointe Christian Community: The uniqueness of the Hybrid program model doesn't mean students can't be involved in the broader NorthPointe community. In fact, there are many opportunities for them to get involved! All-school chapels, athletics, fine arts, and extracurricular clubs are available to

all

students, whether they are in Hybrid or full-time school! This overlap with the broader NorthPointe family allows students to develop relationships outside of their class, pursue new hobbies and interests, and prepare for full-time school, should their parents choose to enroll them.

Friday Enrichment: The Hybrid program was intentionally designed to give Fridays off so interested students could participate in the Friday Enrichment program! While participation in the Friday Enrichment program is not mandatory, it is highly encouraged for parents who desire to provide non-core subject education for their students. The Friday Enrichment program offers art, gym, hands-on science, music, language, and other 'specials' classes.
Why the Hybrid Program?
For nearly 15 years, the Hybrid program has combined small class sizes, committed teachers, Biblically-based curriculum, and parental involvement to offer homeschool students the 'best of both worlds'. Firmly founded on God's Word, family, and community, the Hybrid program is committed to equipping students to impact their world for Jesus Christ in all areas of life.  
Curious about what teachers, parents, students, and program alumni have to say about the Hybrid program? Stay tuned for additional blog posts to come and will be linked below. 
Interested in a tour or more information about the Home & School Hybrid Program? Get in touch with NorthPointe's Admissions Team at admissions@npchristian.org. We would love to share more about this program with you!
Pictured above: John and Laurie DeLong posing with their grandchildren. Photo used with permission.