Blog


Box of Lies
(Part 2)
Middle School students share their reflection on Spiritual Emphasis Week.
Day 1 Recap by Will Kemmerer, Emma Krampe and Maddie Willink (8th grade)
Today Jory Trim was here to speak to our middle school again for spiritual emphasis week.. He was here earlier this year and talked to us about the lies that are all around us in our world. We will be focusing on the idea that God calls us to know His word and decipher what is true and what is good.  We need to realize that our society takes nuggets of truth and uses it to deceive others and to deceive ourselves.  We need to stop and dig into God's word to see what Bible actually says.  I John 2:21 and 22 says " I do not write to you because you do not know the truth, but because you do know it and because no lie comes from the truth. Who is the liar? It is whoever denies that Jesus is the Christ. Such a person is the antichrist—denying the Father and the Son."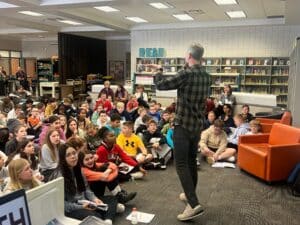 Jory kicked off segment 2 by talking about the Lie of Shopping. He talked to us our gear acquisition system (gas) this is something that you spend your money on for fun.  This leads us into our first lie: "the belief that buying things will make me happy." This may be true for a while but you always end up with a hunger for more. But the truth is that only satisfaction in Christ can bring happiness. 1 Timothy 6:6-7 says that "But godliness with contentment is great gain, For we brought nothing into this world and we can take nothing out of it." In this verse, God talks about Godliness plus Contentment. Contentment is satisfied with what you have. Complacency is being satisfied with being mediocre. This means you don't have the drive to be the best you can be. However, God calls us to a great life of Godliness and Contentment.  He does not want us to be complacent.
Jory challenged us to be a blessing to others.  He reminded us that everything we have comes from God.  He challenged us and talked to us about how we can bless others with our money since our money is actually God's money.  Jory reminded us of the incredible gift that we all have which is salvation in Christ Jesus. When we have Salvation in Christ, we don't have to be worried about our worldly possessions. We will be satisfied with Christ or we will never be satisfied.
Day 2 Recap by Stella Oviatt, Noah Dapprich and Kai VanderKodde (8th grade)
For our second day of spiritual emphasis week, Jory Trim went through two more lies that our culture throws at us. The first lie that we went over was the lie of perfection.  The lie tells us that we are perfect just the way that we are. However, the truth is that only Christ is perfect. He talked about how even though we are not perfect, we are valuable and loved just the way we are. We are emotionally, physically and spiritually broken, which is why we need Jesus. If we were perfect, we wouldn't need a savior, and we would not need to be made new by the blood of Jesus. If we say that we are perfect, we are saying that we don't need God. Romans 3:12 says that all have turned away and together became worthless.   But it continues on in verse 22 by saying if we admit that we are imperfect, we are allowing Jesus to make us new. 2 Corinthians 5:17 says, "Therefore, if anyone is in Christ, he is a new creation. The old has passed away; behold, the new has come." The second lie that we talked about was the lie of love.  This is the idea that love is love. Jory related love to a long john doughnut, its flavor can be changed by what we fill it with. In the same way, our culture has filled the word, love, with a different meaning, That fully changes the way the word love is used. Love has been filled with the word yes, and saying that whatever someone thinks or wants to do, means we must say yes.  It makes us feel like if we don't say yes, then we are not showing love. The truth is that God is love, and love conforms to what God says is true, good and beautiful. That means that through love, sometimes you have to say no to something that is not true, good, or beautiful. If  the love of God is in us, it should compel us to love our brothers and sisters in Christ well. Jory ended chapel by telling us how the greatest way that we can spread God's version of love to others is to tell them the truth of God's great love for them. That is the love that God wants us to spread.
Day 3 Recap by Avaeda Howard, Kaiya DeKorne and Calvin Haven (8th grade)
Today Jory Trim talked to us about two more lies, the lie of shame and the lie of work. The lie of shame that we believe is that "You Should be Ashamed of Yourself". The world is trying to tell us that we should be ashamed of different things like our family name, not going to church, our sins, these are the kind of
lies that Satan wants us to believe. But God wants us to know the truth.  The truth is that There is No Shame in Christ. Jory talked about how in Hebrews 12:2, Jesus endured the cross scorning its shame.  This shows us that Jesus did not allow shame to stop Him from obeying God. Jesus wasn't ashamed because he knew about the eternal life we have in Christ. Romans 10:11 says that Christ paid for our shame and we are not meant to carry shame. What Satan wants is for us
to carry our shame around with us, but we need to talk about our shame openly and shine light on it, confessing our shame steals the power from Satan.
The second lie that Jory talked to us about is the lie of work.  It is the idea that Work is to Escape Work. He explained that often our world views work as something to escape and/or finish quickly so you can have fun.  However the truth is that Work is Worship.  Colossians 3:23-24 says  "Whatever you do, whatever kind of work you are doing, work heartily, with all your heart and all the different ways that plays out in scripture, with Christ-like character, with honesty, with diligence, with integrity, with humility. So work heartily as for the Lord and not for men."  This verse is telling us that the work we do is a way of
worshiping God.  The work we do is for the Lord.
Jory gave three truths about work:
Work exists to generate order, when God created Adam, he worked even
before sin, in order to obtain order throughout the earth.
Work exists to cultivate abundance
Work exists to create beauty
By working, we are reflecting the kingdom of God. He ended with a challenge: What is your attitude about work?
Day 4 Recap by Audi Velting, Sawyer Volkers and Drew Hulbert (8th grade)
Today was our last day of Spiritual Emphasis Week.  Jory talked about three more lies. The first lie was the lie of opportunity. He talked about how God wants us to stay focused on Him. The second lie was the lie of safety.  He talked to us about how we should choose God over safety. The third was the lie of religion.  Jory talked about how different all religions are from each other.
The lie of opportunity is all about how the world offers so many things that distract us from God. It is the belief that we need to take part in
everything offered to us. When we take part in all these opportunities, we can let them become a priority in our lives.  Satan celebrates when opportunities are a distraction from God. We need to remember that opportunities are great, but God is greater.  God wants us to spend time with him and be in His word. He gave us His word in the Bible as a gift and we should want to dig into that gift! Jory challenged us to learn that it is okay to say NO to opportunities even if they are amazing, if they are going to distract us.
The second lie that Jory talked to us about is the lie of safety. He talked to us about how we try to limit the risk of a hazard and how we do not have faith in God to protect us. However the truth is that God wants us to be saved. John 17:11 says, "I will remain in the world no longer, but they are still in the world, and I am coming to you. Holy Father, protect them by the power of your name, the name you gave me, so that they may be one as we are one." Jesus told his disciples that they were going to go through hard things if they follow him. Jesus even told the disciples it may end in death. Jory talked about eternal safety and earthly safety. The second truth is God wants us to be courageous. Joshua 1:9 says, "Have I not commanded you? Be strong and courageous. Do not be afraid; do not be
discouraged, for the Lord your God will be with you wherever you go." God's presence in our life will make courage visible.
Third, we talked about the lie of religion and how not all religions are the same. Jory Trim talked to us about how we need to decipher the truth. He also told us that there can never be more than one God because even though many religions have multiple gods there is only one true God. John 14:6 says, "I am the way and the truth and the life. No one comes to the Father except through me." This verse shows us that God is the voice and we must allow him to speak through us to show others that God is the only God. The truth for the lie of religion was that Jesus is the only way. Jory also told us that you can't mix religions and as a Christian we should follow in God's footsteps. He also shared with us 3 main ideas to be a True Disciple:
We need to ask Jesus into our heart and build a
relationship with God.  We have to belong to God and
follow him.
We have to believe in God's word and the Bible.
Disciples obey God's word.
It was a really good week and it was great to have Jory back at NPC.