Jon Klaver
4th Grade Teacher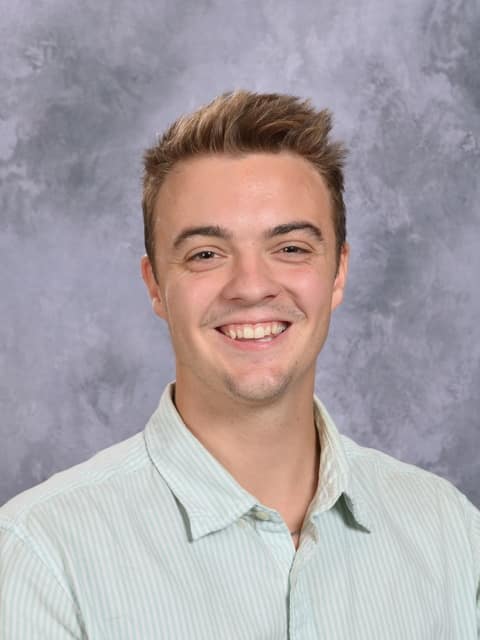 Email: Send A Message
Year Start At NPC: 2022
I am so fortunate to be at a school where I am able to share my faith with my students. It's going to be amazing to see how students will be able to learn more about Christianity through so many different avenues in the classroom. As well as this, I am so excited to be able to help my students grow in their faith and learn different subjects through a Christian lens.
Faith & Life
Bio

Mr. Klaver graduated from Calvin University, and this is his first year teaching! He is so excited to teach 4th grade and is looking forward to watching his students grow in their faith and learning. In his spare time, Mr. Klaver loves to spend time in Ludington in the summers. While in Grand Rapids, he spends time with his family and goes out to eat with friends.
Statement of Faith

My faith and Christian worldview have been shaped throughout my experiences growing up. In our Christian household, I saw firsthand the love of God through my parents and family
members. I am grateful now to pass this love along to my students at NPC.

Fourth grade is the best! Being able to teach all subjects is a blessing because I have the chance to intertwine Jesus in all subjects. My goal for my classroom is for it to be a place where every student feels loved. From their first step into my room, I want these children to feel the presence of Jesus. To begin each day, we start out with devotions, prayer requests, and praises. This is my favorite time of the day because the students are able to settle in and start their day off with learning about how Jesus is present in their lives.

In my classroom, we cover biblical mandates that are important for the students and teachers to remember. The first mandate, the love mandate, comes from Matthew 22: 37-38:
"Love the Lord your God… Love your neighbor as yourself." I will seek to integrate this love mandate in my classroom in many ways, with students given the opportunity to exhibit God's love every day. Whether it is working on our Kindness Challenge for the week, or weaving our bible topics in our lessons, my students will recognize the importance of love. In the classroom, on the playground, or in the bus line, students will know how important it is to love others.

I will also infuse in my classes our mission mandate. In Matthew 28: 18-20, Jesus tells us to "Go and make disciples… teaching them to obey everything I have commanded you." Through Bible memory and in-class discussion, we are able to tell others about the goodness of God and participate in serving others together.

Our image mandate can work with this hand-in-hand as
well. Genesis 1:26, 28 helps students understand that God made them in His image. That learning will help them to act as God wants them to act. No matter what subject or area of school may be a struggle for them, I want them to see that their worth is in Christ Jesus and their confidence comes through the grace of Christ Jesus.