A Box of Lies:
Students learn how they
can be All in for Christ
Middle School students share their reflection on last week's Spiritual Emphasis Week.
Day 1 Recap by Madison Willink & Emma Krampe
Today was our first day of spiritual emphasis week. Jory Trim from Trinity Baptist Church was our speaker. He titled our week "A Box of Lies".  He said that when we think about being "All In" for Christ, we need to be able to have discernment in the world we live in today.  He said we need to be able to tell the difference between what is truth and what is a lie. 
He reminded us we serve a God of truth and Satan is the prince of lies. Satan will try his best to get us to believe his lies and make them look attractive. Some of the big lies in our world include:
You can't know God

There is no God 

You can be God
Jory Trim shared that there are ten subtle lies we are going to unpack this week.  Today's subtle lie was about autonomy. The definition of autonomy is the right or condition of self-government. This also means we like to be in control of our lives, and we don't submit to God. The lie of autonomy leads us to believe that "We are king of our own life."  When we aren't grounded in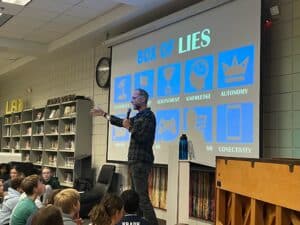 God's word and in a relationship with Jesus, we can become rulers over ourselves instead of allowing God to rule over us.  For example, instead of loving all of God's people, we might only love the people we want to love. Or we might say "I will follow him after/later".  We want salvation from Jesus but we don't want to obey the Lord. 
Jesus said, "if you obey what I teach you and you believe the truth, I will set you free." John 8:12 also says "I am the light." Jory challenged us that if we follow God, we will never have to walk in darkness again. We need to remember that God is God and we are not. He is King of Kings and Lord of Lords.  He reigns over all and above all. A verse that Jory Trim shared with us was Revelation 19:14-16.  He reminded us that we must honor the people that God has placed in authority over us to help guide us and lead us to be able to discern and put our stake in the ground for Jesus.  When we do this, we can be "All In" for Christ.
Day 2 Recap by Avaeda Howard, Stella Oviatt, & Sawyer Volkers 
Today we talked about various lies that the world likes to throw at us that stop us from having life to the fullest. We talked about the lie of ownership, the lie of knowledge, and the lie of dreams. All of these lies turn us to have a worldly focus instead of looking towards eternal life. 
The first lie that Jory Trim talked about was the lie about ownership.  He talked about how we think we own everything but really we own nothing.  We are just entrusted with things on this earth and everything actually belongs to God.  Jory talked with us about how God has spoken for our body.  He reminded us that we often think we can do whatever we want with ourselves because we own our body. However, instead we were reminded that our body is a temple and it belongs to God. The verse that goes along with this statement is 1 Corinthians 6: 19-20 which says, "Do you not know that your bodies are temples of the holy spirit, who is in you, whom you have received from God? You are not your own. You were bought at a price. Therefore honor your God with your bodies." 
The second lie that we talked about was the lie of knowledge. The lie of knowledge is that you can't know anything for sure, and you never really know what is true. This means that we don't know anything for sure, especially things about God. Then we looked at the truth which is that God has made himself known to us and we CAN know for sure who he is. God says that the world does not know us, God knows us, and by having a relationship with God we can know for sure who He is. John 14:25-26 tells us, "All this I have spoken while still with you. But the advocate, the holy spirit, whom the Father will send in my name, will teach you all things and will remind you of everything I have said to you."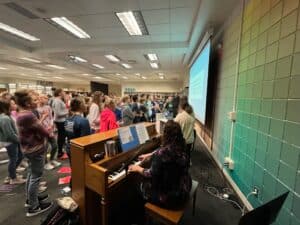 The last lie that Jory talked about was the lie of dreams. He talked about how we always hear things like, "Follow your heart and your dreams will come true". This lie can be really deceptive because God wants us to set goals for our lives, but He doesn't want those goals to be self centered or to overcome Him. Sometimes we let our dreams become an idol and set our focus on worldly things. The truth is that our heart can't be trusted. Our heart focuses on our feelings and the moment, but God wants us to focus on eternal life. God wants us to see how we can use our gifts he has given us for his glory. Jeremiah 17:9 says this, "The heart is deceitful above all things and beyond cure. Who can understand it?" Our heart can lead us into temptations and our dreams can be dangerous if we let them be our focus. They can become idols. Jory challenged us to think of our dreams as aspirations.
The speaker did a great job exposing these lies that the world likes to tell us to stop us from having life to the fullest. Our theme of being All In for Christ and Living Life to the Fullest is exactly what we need to be focusing on. Jory challenged us that we need to refocus ourselves to use what God has given us and use it for his glory.
Day 3 Recap by 
Will Kemmerer & Audri Velting
Today was our 3rd day of spiritual emphasis week with pastor Jory Trim. It was another great day!  We talked about the lies of achievements and misfits. 
The 1st lie we talked about was the feeling people have that "you are what you achieve".  Jory shared that this is not true. He reminded us not to make our achievements our life.  He challenged us to think about how we would feel if we lost a game or didn't become a star actress. The world would say that achievements are our life, but that's not what we are told by God. Our main priority should be God…not trying to impress God or the world with our works. Our grades don't bring us to heaven or make God love us more.  God loves all of us just the way we are.  
When we walk with the holy spirit, God will give us the fruits of the spirit.  These help us learn more about him and help us grow in our faith. Christ did not die for us because of the amount of trophies we have or how big they are. He died for us because he loves us so much. No matter how big your sin is, you can't fail God or make him love you less. So again school and sports don't define who you are and God will love you so much no matter what.    
The 2nd lie we talked about was the lie of misfits. A main part of that lie is satan wants to makes us feel like we are dumb, like we are too sinful or too messed up to be loved. It makes us feel like no one can love us. Whether we feel like that, or we are told that by bullies, many people in our world struggle with this lie. Some people think that they don't belong or they don't have a purpose.  Pastor Jory told us that we are God's poem. Poems are made with a purpose so if we are God's poem then WE were created with a purpose. God created us exactly how he wanted. When sin came into the world, perfection was ruined and it made us feel like misfits. 
Jory ended chapel by sharing these 3 truths.
You are created in God's image

You are made on purpose and for a purpose

You are God's cherished possession
God created us so that means that we are His creation and He loves us dearly. God loves us more than we could ever love Him back. Romans 5:8 says "God shows His love for us in that while we were still sinners Christ died for us." We should live in that truth everyday no matter what we feel.
Day 4 Recap by Noah C. Daprich, Kai VanderKodde, & Kaiya DeKorne
Today was our final day of chapel with pastor Jory Trim. It was amazing once again! We talked about the lies of Connectivity, Adolescence, and Sufficiency.
The first lie we talked about was connectivity. He talked about how technology has improved for the better, helping with things like medicine, hospitals, and travel. Technology has also made some very empty promises. He talked about how the LIE is that technology will always make yourself better and always bring people together. This is not true because God created humans to connect with each other, when he made Adam and Eve, he didn't just create Adam, he created humans to connect. Many people nowadays believe connecting is only through technology, phones, and social media. 2 John 1:12 says, "I have much to write to you, but I do not want to use paper and ink. Instead, I hope to visit you and talk with you face to face, so that our joy may be complete." God created us to make deep connections and relationships with others in person, face to face. He does NOT want us to rely completely on our phones, phones are a tool for connecting us, they are not how we are supposed to connect.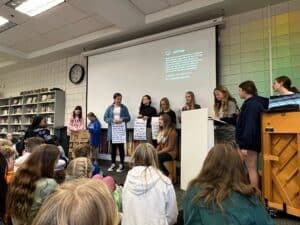 The next lie that Jory talked about was the lie of adolescence. The LIE that he talked about was that the teen years are just for living it up, fast, easy, and fun. Many teens these days are said to be lazy and are caught up in this lie that you can't do anything meaningful until you are older and that you're just supposed to have fun and enjoy life as a teen. God calls us to go out and serve the Lord with talents and abilities he has given us. At our young age, we are in fact at the most capable age. The TRUTH is that our time is now. We can do awesome things through and for the glory of God. We don't have to wait until we get older. Jory quoted Proverbs 6:6 that says, "Go to the ant you sluggard, consider its ways and be wise." We are called to go out into the world and serve the Lord diligently and work hard even though our world wants us to believe that we are supposed to only have fun and do the easy things. We need the church and teachers and youth group leaders and parents to all have authority over our life. We need people like them in our lives to guide us and teach us. The church needs us to go out and do God's work, and to serve him.
The final lie he talked about was the lie of sufficiency. The LIE was that "you don't need nobody".  Often we think that we don't need our family and we can always find a way to do things on our own.  But that is a lie from Satan. There were three truths that Jory Trim Shared with us.
You can't save yourself.

He talked about how we need someone else to save us and that is JESUS CHRIST.  Ephesians 2: 1 & 4 "As for you, you were dead in your transgressions and sins" & "But because of his great love for us, God, who is rich in mercy".
You were created to be in relationship with others.

The next truth he talked about was that you were created to be in relationships with others.  And Genesis 2:18 says  "The Lord God said, It is not good for the man to be alone. I will make a helper suitable for him."
You can't live in obedience to God outside the church.

The final Truth was you can't live in obedience to God outside the church.  Hebrews 10:25 says that "not giving up meeting together, as some are in the habit of doing, but encouraging one another—and all the more as you see the Day approaching".
Jory ended by reminding us that we need the church and the church needs us.  He challenged us to let go of the lies and cling to God's truth.  We are grateful he was with us this week.  He did such a great job of presenting God's word that connected with us in a real way.