Julie Ellens
Home & School Hybrid Kindergarten and 1st Grade Teacher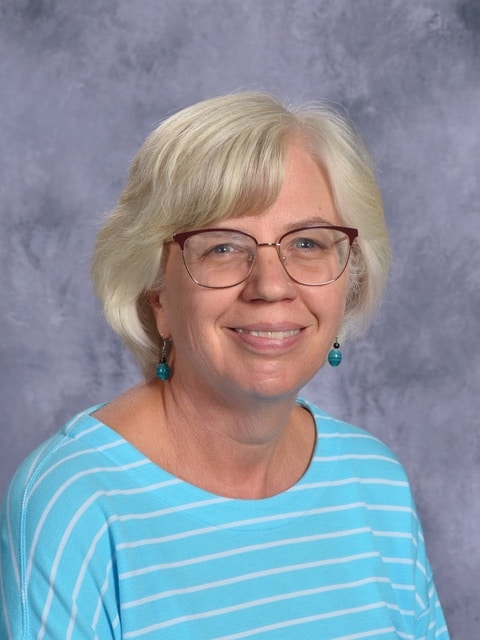 Email: Send A Message
Year Start At NPC: 2008
I love sharing God's Word with my students, telling the stories of God's faithfulness and memorizing passages with them. I also know the value of praying with them and teaching them to pray, sharing with them my own experiences of God's faithfulness in answering prayer. I'm grateful that I have opportunities to shine the light of Jesus through every subject area.
Faith & Life
Bio

Julie Ellens graduated with a BA from Calvin College and an M.Ed from the University of Utah. She is married to Marc and has two married daughters and 3 grandchildren. She loves seeing the lights go on when her students learn to read and also loves to read herself. She enjoys walking and doing Zumba to keep active and discovered painting by number as a new hobby during the pandemic.
Statement of Faith

Because I have had the blessing of growing up in a Christian home, I have known Jesus all my life. I publically professed my commitment to him as a teenager and have been growing in my faith walk from the beginning. God has brought me closer to him through a variety of experiences all along the way, from going to the University of Utah as a graduate student to being a wife and the mother of two daughters. Each experience brings me into a deeper relationship with Him.

My opportunities to work with Kathleen Trock, founder of Pebbles and Stones Ministry, have sharpened my focus on prayer and the importance of a personal relationship with a living, caring God. I am still learning to be quiet and listen to what God has to teach me, to read His Word and journal my responses, and to pray intentionally.  I desire to pass what I have learned on to the children with whom I work at school and at church, helping them also learn to be still in a hectic fast-paced world to hear God's voice, to spend time in His Word, and to pray in response. In the CAP program we have Pebbles and Stones groups that meet every other week to worship, learn, journal, and pray together.

The Bible program that the Hybrid program has implemented encourages us to carry out the mandate to love God and others. The students have a daily quiet time book, which I check weekly to assist them in being accountable. We also discuss the themes that they find in the passages that they are reading for their quiet time, discovering together God's love for us as well as his commands for us. We end our discussion time by going around the circle praying individually for each person, developing caring relationships with each other and discovering God's answers to our prayers. We also memorize passages of scripture. For example, we spend the month of December learning Luke 2:4-16. We discuss why we are learning this whole passage, realizing that we can use it to tell others about Jesus, we can receive comfort from the words, and we can know God better by hiding his Word in our hearts. All the Hybrid students are recognized for completing daily quiet time, scripture memory, and Christian service.

In science we are studying the swimming creatures of the fifth day, and the students use a Christian textbook at home to read about these interesting creatures from a Christian perspective. At school we discuss how intricate God made each creature with features that allow it to survive and thrive in its own environment. After realizing what gifts God has given in creation, we realize we have a responsibility to care for it.  In the fall we focused on the mandate to be good stewards of God's gifts when we completed a lesson on currents and the effects of the oil spill, influenced by the currents.  In discussing our responsibilities, we came up with ways that we could practically help by not using as much oil. The students suggested carpooling, walking to nearby destinations, and putting a sweater on at home instead of turning up the heat. The students realize that even though they are young they can have a positive influence on their environment.

We are studying the seven continents for social studies, focusing especially on the mandate to tell others about Christ. For each country that we study, we look at a missionary report or "Windows on the World" to find out what the prayer needs are for that country and how missionaries are working there. We discuss how people there are like us and how they are different, realizing that we can love them and pray for them. The students also choose a country from each continent to research with their families, which they present to the class and then pray for the people in that country.