April Deur
Middle School Math and Computers Teacher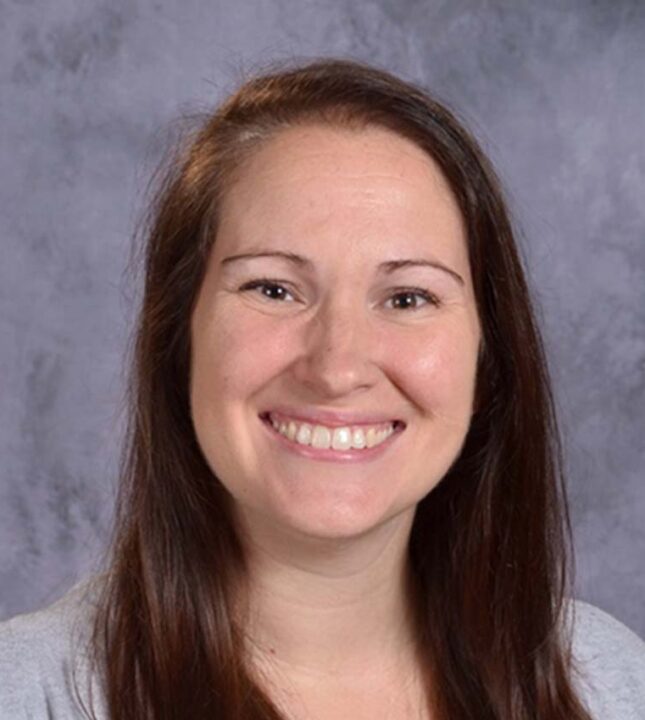 Email: Send A Message
Year Start At NPC: 2010
NorthPointe has been my second family. They have walked with my husband and I through countless trials and been a source of encouragement and support. In addition to working with "family," I love building relationships with my students. More than teaching math, I love talking faith, God, and life with my students. My passion, above all, is for them to know and love God with their whole hearts.
Faith & Life
Bio

Mrs. Deur graduated from Cornerstone University with a major in secondary math education and a minor in secondary English education. She began her teaching career at NPC and has never left! In 2018, she graduated from Grand Valley State University with a master's degree in Educational Leadership. Mrs. Deur lives with her husband, Jon, her son, Micah, and has a little girl on the way! In her free time, she does photography.
Statement of Faith

As Christians, we are called to live lives that are set apart for God. Titus 2:11-12 says, "For the grace of God that brings salvation has appeared to all men. It teaches us to say 'no' to ungodliness and worldly passions, and to live self-controlled, upright and godly lives in this present age […]." Our students are growing up in a society that encourages behavior and lifestyles contradictory to the truth of God's Word. When they leave NPC, they will be bombarded with peer pressures, temptations, and choices. No longer will they have a parent or teacher telling them what to do and how to do it. For this reason, it is essential that they are prepared when they walk out our doors, prepared to take a stand for Christ.

I do not find it difficult to incorporate my faith into my teaching. Christ is my life so, naturally, He easily makes His way into my conversations and lessons. However, I do try to be intentional about incorporating NorthPointe's three mandates into my teaching. I will share just a few examples below.

Math class is an incredible place to discuss the LOVE mandate. This mandate comes from Matthew 22:37-38 when Jesus said, "Love the Lord your God with all your heart and with all your soul and with all your mind." Mathematical concepts open our eyes to the complexity and intricacy of God's creation. The systematic laws by which this world works as well as man's ability to study and understand these laws are a testament to God and God alone. Mathematics also gives us the opportunity to discuss God's qualities and character. When we discuss the concept of infinity, it opens doors to discuss God's infinite nature. God, like numbers in our mathematical studies, has no beginning and no end. His faithfulness, love, justice, and righteousness will never run out. In discussing God's infinite qualities, we are reminded of man's finiteness. This is seen primarily in our mathematical discussion of limits. We serve a limitless God; however, due to sin, we experience all kinds of limits in our life. We will always fall short of perfection. 1 Corinthians 13:8 says, "Love never fails. But where there are prophecies, they will cease; where there are tongues, they will be stilled; where there is knowledge, it will pass away. For we know in part and we prophesy in part, but when perfection comes, the imperfect disappears."

The MISSION mandate is very prominent in my language arts classes. This mandate is found in Matthew 28:19-20 when Jesus said, "… go and make disciples of all nations, …teaching them to obey everything I have commanded you." If our command is to "go," "teach," and "obey," then we must be prepared. We cannot expect to teach God's commands if we do not know them. It is for this reason that we strengthen our reading and analyzing skills while encouraging students to put those skills into practice by studying God's Word. Along with developing their own knowledge of God's commands, they must be able to teach those commands to others. This requires speaking and writing skills. It is for this reason that we discuss public speaking and the purpose of language. We also practice writing in many forms on many different topics. I Peter 3:15 says, "Always be prepared to give an answer to everyone who asks you to give the reason for the hope that you have." We want our students to not only know what they believe but be able to effectively communicate it as well.

The IMAGE mandate is naturally incorporated into both math and language arts classes. This mandate is found in Genesis 1:26 when God said, "Let us make mankind in our image […]." After blessing man in verse 28, God says, "Be fruitful and increase in number; fill the earth and subdue it. Rule over the fish of the sea and the birds of the air and over every living creature that moves on the ground." One of the primary connections between this mandate and mathematics is stewardship. As we discuss finances, we discuss how we can use and manage our resources responsibly. In language arts classes, we recognize our ability to choose, which comes from being made in the image of God. As we read various short stories and novels, it provides a perfect launching point to discuss the choices we are daily faced with and how to determine right from wrong. Ultimately, incorporation of the image mandate allows us a chance to recognize the incredible blessings, gifts, and opportunities we've been given and encourages us to consider how our use and appreciation of those gifts can testify to Christ's work in our lives.