Scott Huckaby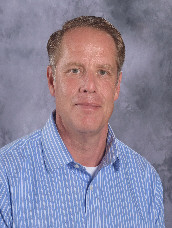 Scott Huckaby
Athletic & Spiritual Life
Groups: K-12
Employed Since: 7/1/2010
8 Years Experience At School
Faith and Learning Statement
I first came to know the Lord in a personal way through the direction of my parents. While a strong Christian home was a big part of my upbringing, at the age of 8, I personally accepted Christ as my Savior and Lord. It was at that point I recognized that all of the Christian things that surrounded my life were very good, but they just were not sufficient to save me. I had to repent of my sin and recognize that God needed full control of my life. As a result, I needed to live in thankfulness for his work at the cross and in submission to his leading and will in my life. I now want to express my faith, my walk, and my love for Christ by teaching and modeling the school's three mandates.

I seek to carry out the Love mandate ("Love the Lord your God…. Love your neighbor as yourself." Matt. 22:37-38) in athletics by challenging our coaches to disciple our children through athletics. I expect these coaches to model Christ in their speech and actions every day. I emphasize that we show our love, in adversity as well as prosperity, by our treatment of each other, opponents, officials, fans, or the media. We have a family tradition that is simple, yet effective, to help our children understand this critical mandate. It teaches them to love and appreciate their coaches for the time these coaches invest in them. They are asked to thank their coach at the conclusion of each and every practice or game. It only takes about 15 seconds. It teaches them that life (and sports) are not all about them, but about working with others. I share this tradition with our coaches here.
Beyond sports, I see to teach the love mandate too in spiritual life at NPC. This includes academics, arts, athletics, and the culture or atmosphere in all areas of school life. Chapels are a specific way that we seek to challenge our students in their walk with the Lord. We want our students to love the Lord and to serve him with their lives. We teach this through peer accountability, prayer, discipleship, and small groups, as well as outside the school through service opportunities. One of the objectives of our chapel time is to not only help our students understand God better, but to see ways to grow, develop, and strengthen their personal relationship with Him by bringing in speakers that will challenge their daily walk with the Lord.
I seek to teach the Mission mandate ("Go and make disciples…teaching them to obey everything I have commanded you." Matt. 28:18-20) both in athletics and the spiritual life of students. Our students are on a pedestal for all to watch and see. Athletics is a great tool to display Christ by athletes' actions but also to reach out and share our faith with the lost. We want our athletes to model Christ both within teams and the school day to day but also to opponents, pursuing excellence and daring to communicate Christ's message of salvation cross culturally and as an outreach to the lost.
In spiritual life at NPC, I try to carry out this mission mandate as an extension of loving God and neighbor. If our students love God and love others, they will want to "do something" with it. Christian service is a Bible requirement, but I want to give direction to students for informally meeting others' needs, to give students ideas for giving up one's time, money, or narrow interests in serving our school and the broader community. This is training ground for "impacting the world for Christ."
I seek to carry out the Image mandate ("Let Us make man in Our image…. Be fruitful…fill the earth…subdue it…rule over every living creature…." Gen. 1:28.) in athletics too. It's especially hard to do this, given that sports have become a "god" to many. Primarily this means that I try to help coaches and parents see that God expects us to use our time and effort wisely, in a balanced way. I try to help coaches, and through them our athletes, to enjoy sports and prepare well, but that they fit as just one part of other very important things in a teen's life: devotions, class work, time with family, etc. Part of this teaching is having our coaches model their use of time in relationship to their families and their devotion to God.